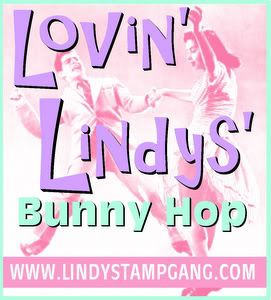 Hoot Hoot! Are you ready to have some fun?
I'm here for Lindy Stamp Gang's Lovin' Lindys' Bunny Hop! Each one of the LSG Design Team members will be sharing some super amazing projects created with Lindy Stamp Gang (LSG) products on their blog. You don't want to miss out on all the tips and tricks being shared with you on this hop. Get ready for some great inspiration!

Now on to my project!
The hop's theme is Spring and/or Easter, and when I think of Spring I think of flowers, beautiful bright colors.... I think of nature. This was the way I wanted to go with this project. I've been wanting to alter one of those balsa boxes from Michael's, so I decided to stop hoarding the one I had, and just have some fun. Since I
just got my hands onto some of the LSG Paint Pots I wanted to use some and give them a try. I never imagined how fun they would be!
Let me tell you, I just got them and I'm in love! Completely in LOVE! The colors are so amazing, just like the regular stains, mists, and spritzs, but when using a brush, these are just the product you have to go for. So super comfortable and fast to use!
I was hesitating on using the pots on the wood since they are water based, and I didn't think there would be a good adhesion to the wood, but man was I wrong!!! They work magic, coverage was awesome, and I loved how the colors just naturally blended on the surface and didn't cause any streaks! Heaven. If you are worried about the color coming off, which really stays put, you can always add in a layer of gel medium on top and you'll be all set. I painted the parts of the box that would not be covered in any designer paper with a Moon Shadow Inkpot in the color
Burnt Umber
, heat set, and there... I had the most glimmery, pretty wooden surface I had ever seen!
After drying the box nicely with my heat gun (who wants to wait for it to dry, right?), I adhered the designer paper. I used Tim Coffey's Cottage Garden Collection and my soft gel medium. I thought this collection was just perfect for this spring project. So bright and colorful! I sanded down all the edges of the box to get rid off any extra paper and to smooth everything out. After that, I used my Vintage Photo Distress Ink to go over the sanded edges, and attached a gold button to the closure of the box to add a spark of gold to the color mix. I took some brown velvet and sheer fabric stretch ribbon to use in my closure as well and attached it to the box.
To embellish the box I used one big flower which I colored using LSG Starburst Stain Color Shot Pot and a brush. The colors I used were
Alpine Ice Rose
and
Icy Primrose Gold.
I also sprayed the flower with a Glitz Spritz in the color
Dessert Moon Gecko Green
. I just love that Spritz! If I could spray it on every project, I would! It just made the flower the perfect color to match my project. I also colored two mini roses the same way but with the
Moon Shadow Inkpot in Burnt Umber
(the same color I used to paint the box). I used two skeleton leaves, some gold pearl sprays and a Tim Holtz pin to hold an Tim Holtz Adage Ticket that reads the word Live.
I used two
LSG Brass Charms
. I love them so much! They are super strong, have great texture, and are super easy to alter. I used a
butterfly/moth
and a
dragonfly
for this project. For the butterfly I used my Versamark and LSG embossing powder in
Geranium Coral Blush
and heat set. For the dragonfly I used LSG embossing powder in
Spring Leaf Chartreuse
and embossed just the body of it, leaving the wings untouched. I just love the look of these too pieces, and the way they act as nice accents to the main flower on top of the box.
Click
HERE
to watch the video tutorial for this project. It was so fun to create, and my first altered box ever!
Are you new to Lindy Stamp Gang products and are wondering what color set you should start with? Think about what your favorite colors are, what your style is. Check out
Lindy Stamp Gang's website
. You might even want to check out some of the
LSG video tutorials
to help you decide what products might be right for you. But before you do that, don't forget to check out what my fellow LSG Design Team members created for the hop, and don't forget to comment and show some love on their blogs!
Below is a link to the other Design Team members and their fabulous projects. Be sure to check them out and see what they have planned for today, and get inspired to make your own masterpiece!
Remember the Linky Party coming up on April 15, where you have a chance to win some great LSG products by just submitting your creations with LSG products. See you back here then!